//= wp_get_attachment_image($images['ID'], "generic") ;?>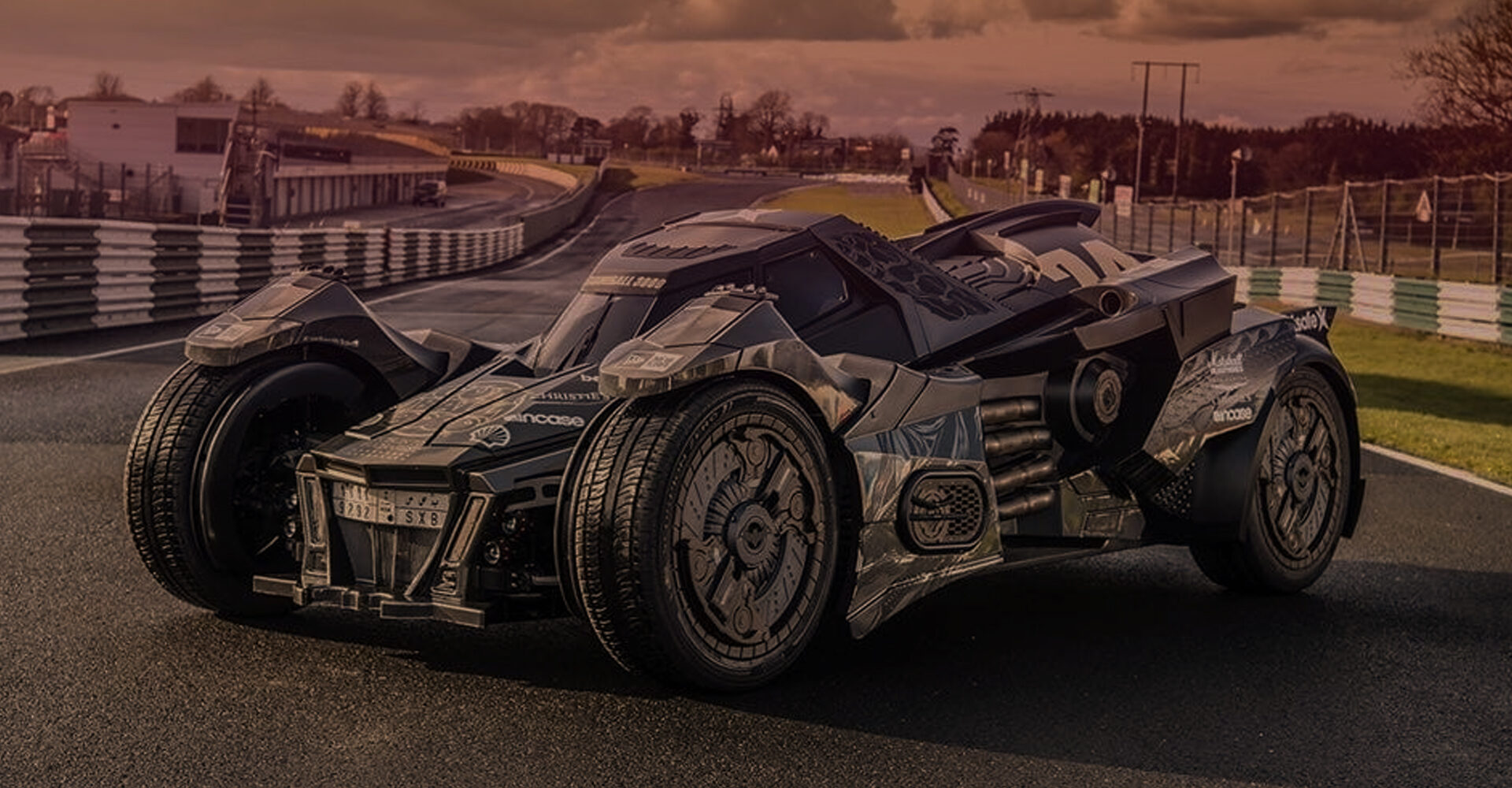 //= wp_get_attachment_image($mobileImage['id'], "generic-mobile") ;?>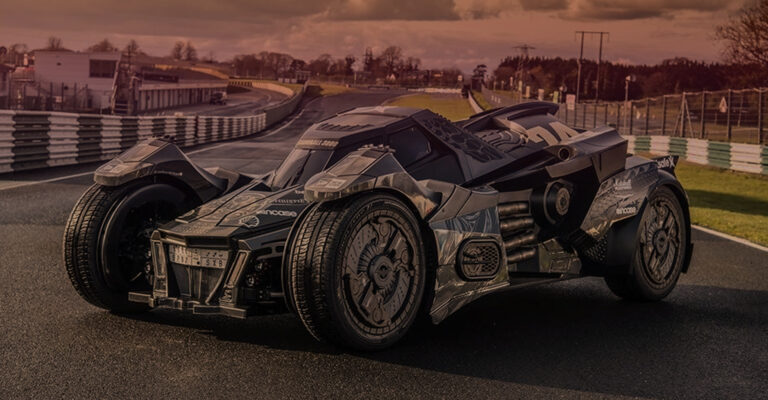 Craziest Gumball Supercars of All Time
Craziest Gumball 3000 rally cars in history
From Lemons to Batmobiles, the rally has more than just exotic supercars hitting the highways.
What makes a great rally car? Power, speed, handling… but when it comes to the Gumball 3000 Rally, it's all about the crazy. This isn't a race like the Monte Carlo Rally; the Gumball 3000 is the road trip to end all road trips; a 3,000-mile journey where famous drivers and celebrity car enthusiasts get to show off their machines – emphasis on "show."
There have been some amazing entries over the years, too. The bar was set pretty high for Gumball 3000 cars for 2022, with some seriously eye-popping wheels to make the trip, an odyssey that began in Toronto and ended in Miami. Let's see how we stack up against 10 of the most legendary Gumball cars from days gone by.
1. The Batmobile 2.0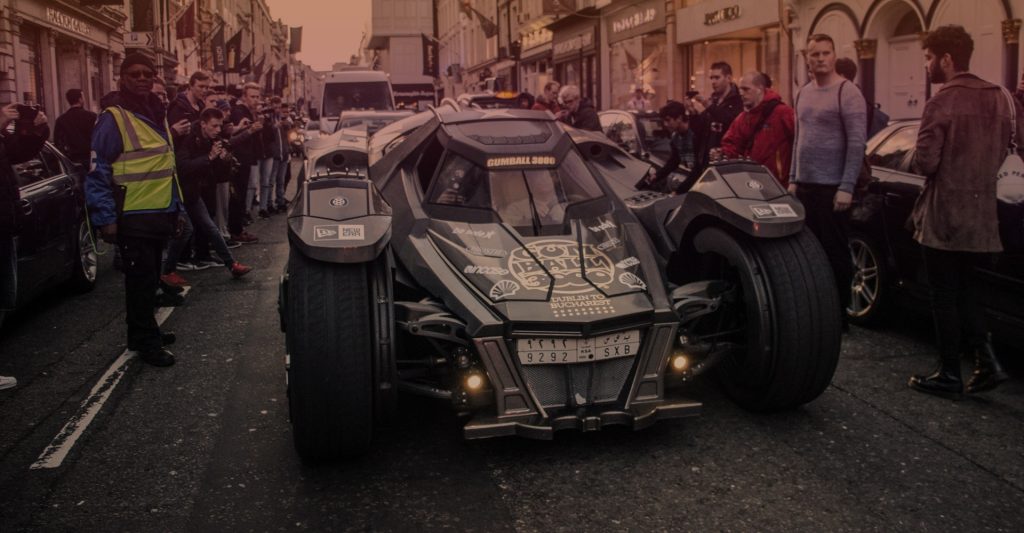 Our list has to start with the famous Gumball 3000 Batmobile. Unleashed at the 2015 rally, this car was built by Swedish company Caresto (founded by Leif Tufvesson, who formerly worked at Koenigsegg) on a Lamborghini Gallardo chassis with a sick 5.2-liter V10 engine generating 560 horsepower, using a body made entirely out of black carbon fiber.
This was the second attempt by Saudi-based Team Galag to run a Batmobile at the Gumball 3000. Their 2013/14 entry was a replica of the "Tumbler" as seen in the Dark Knight trilogy of movies, but that car had way too many issues to solve. Version 2.0 is more like the Batmobile from the Arkham Knight videogame, or maybe the one Ben Affleck drove around in Batman v Superman: Dawn of Justice. Naturally, Belgian police pulled the car over while it was en route from Dublin to Bucharest – but only so they could get some pictures.
2. The Purrari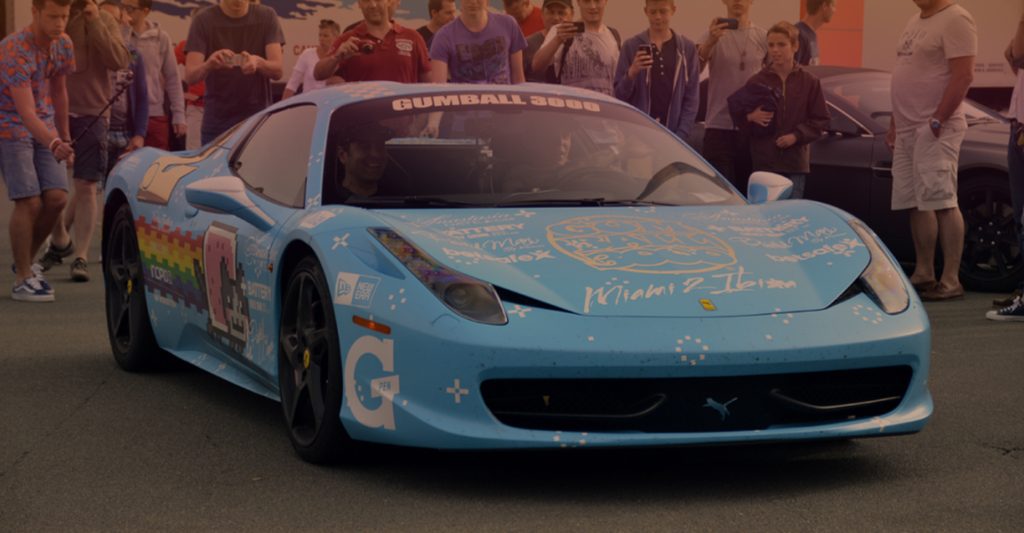 Joel Thomas Zimmerman, aka Deadmau5, has been nominated for six Grammy Awards, but the Canadian music producer and DJ's greatest creation may have been the souped-up 2013 Ferrari 458 Spider he debuted at the 2014 rally. This car really stood out because it was painted up like the Nyan Cat meme – Deadmau5 even hooked up the stereo so it only played the Nyan Cat theme song.
Naturally, Deadmau5 named his pride and joy the "Purrari," and teamed up with Tory Belleci from MythBusters to form Team Purrari. Unfortunately, they got a bit too creative with the Ferrari logos on the car, replacing them with Purrari logos and drawing the ire of the Italian automaker's lawyers. In the end, Deadmau5 put the car up for sale on Auto Trader after the rally and bought himself a McLaren 650S. Nice.
3. Coulthard's Need for Speed
Speaking of McLaren, there's always been a strong Formula 1 presence at Gumball 3000 – even some street-legal versions of F1 cars have made their way into the field. Generally speaking, the F1 drivers who enter the rally favor performance over craziness, and they're a bit more competitive about how quickly they finish. Case in point: former McLaren driver David Coulthard, who brought a sweet Mercedes E63 AMG coupe to the 2016 rally.
He almost didn't make it through. Coulthard was clocked doing 110 mph in the Alsace region of France, a good 30 mph above the speed limit. Police pulled him over and fined him the equivalent of about $150. If Coulthard had gone even 1 mph faster than he was, he would have immediately been stripped of his license.
4. The InCENArator at the Gumball rally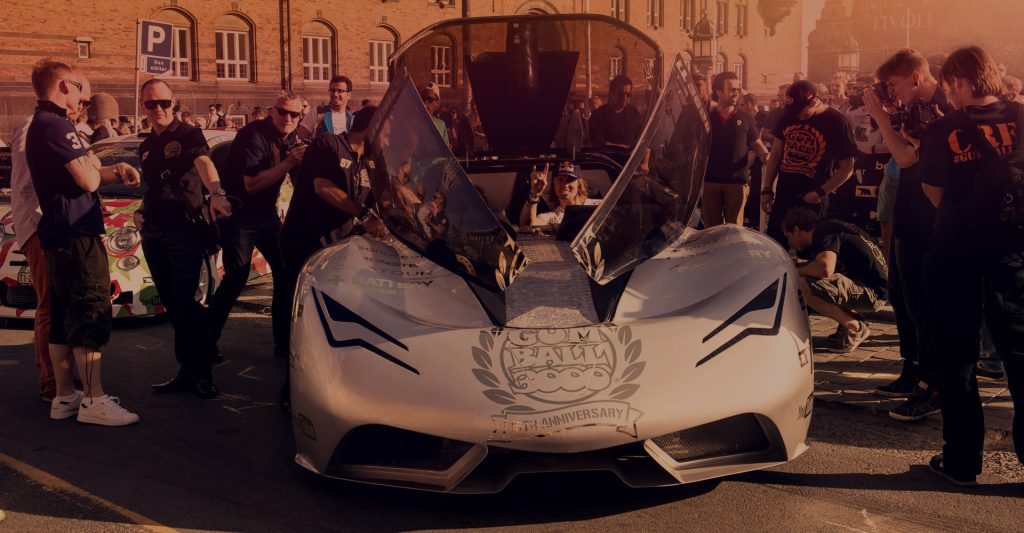 Life has been pretty good to John Cena. The former pro-wrestling champion has taken the path Dwayne "The Rock" Johnson laid out before him, becoming a fixture in big-budget movies – Cena even replaced Johnson in the ninth instalment of the Fast and Furious franchise. No surprise; Cena is a full-on car lover, and he made a splash at the 2013 Gumball rally when Saudi prince Talal M. A. Al-Faisal Al-Saud drove one of the stars of his collection: a rebuilt 5.5-liter V8 Corvette known as "The InCENArator."
This was no ordinary Corvette. Cena took this car, which had been wrecked previously, and gave some design instructions to the people at Parker Brothers Concepts, hoping for something that would look like it came from the year 3000. They definitely hit the mark. And the flamethrowers were a very nice touch, too.
5. Xzibit and the Lambo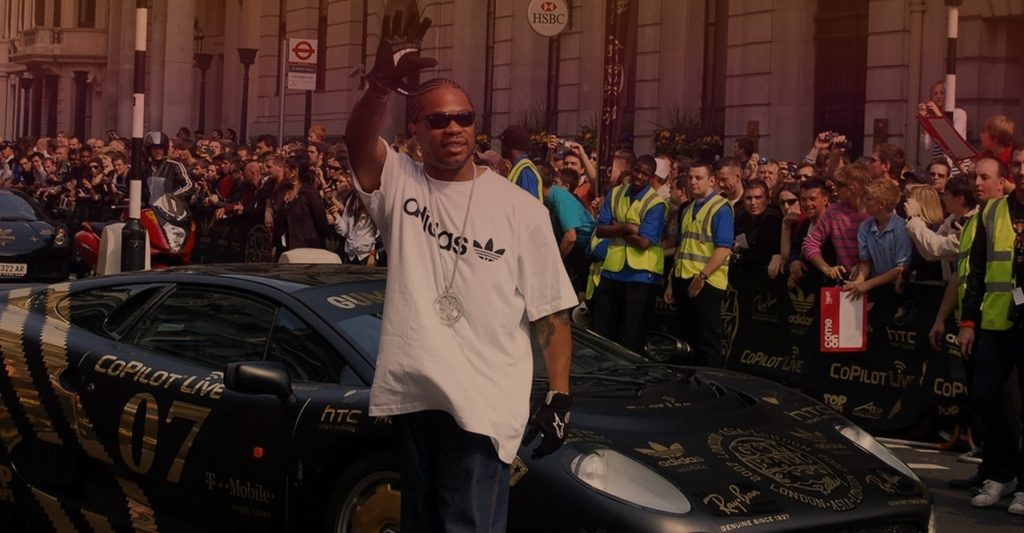 This might be the most infamous celebrity moment in Gumball 3000 history. Alvin Nathaniel Joiner, better known as Xzibit, had a handful of minor rap hits before he found even bigger success on the screen with his MTV show Pimp My Ride. It was destiny for Xzibit to join the Gumball rally, which he did in 2007 with an absolutely gorgeous Lamborghini Gallardo.
Unlike Coulthard, Xzibit did indeed lose his license after getting pulled over in the Netherlands, where he was doing 100 mph in a 100 kph (60 mph) zone. Xzibit's co-driver had to take the wheel from there; after the rally, Xzibit told reporters he got confused between the miles and the kilometers. That didn't deter him from coming back in 2010 with a pimped-out Porsche Cayenne Turbo, and attending more Gumball rallies after that.
6. Jason Priestley's Lotus Esprit
There weren't too many 1990's television stars more famous than Jason Priestley from Beverly Hills, 90210. When Maximillion Cooper first came up with the Gumball 3000 concept in 1999, Priestley was one of the first celebrities on board; already an aspiring racer, Priestley made the journey from London to Rimini, Italy (and back) in his Lotus Esprit V8.
Sadly, Priestley's racing career took a wrong turn in 2002 when he hit the wall at the Kentucky Speedway doing 180 mph in an Indy Pro Series race. His FAZZT Race Team also fizzled in 2011 after just two years of operation, bought out by Sam Schmidt Motorsports. But this lifelong gearhead always has his day job to fall back on – not to mention all those tasty cars in his collection.
7. Lord Montagu's Fresh Bentley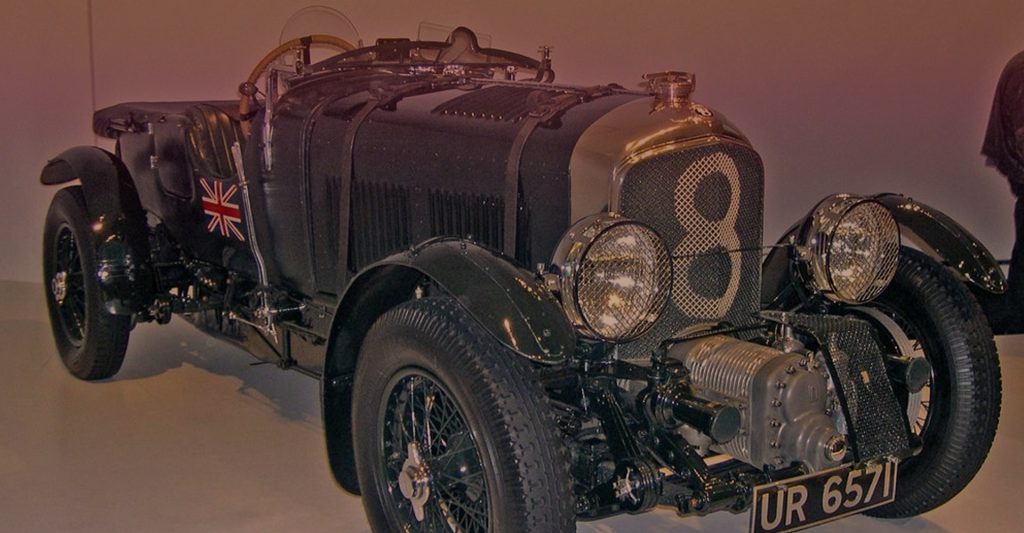 Easily the oldest car ever to run in the Gumball 3000 was the 1929 Blower Bentley that the late Edward Douglas-Scott-Montagu (the third Baron Montagu of Beaulieu) piloted at the 2001 rally. The Blower Bentley was a supercharged version of the "Bentley 4 1/2 Litre" that won the 24 Hours of Le Mans race in 1928. Fittingly, Lord Montagu was also the oldest Gumball 3000 participant up to that point at age 76.
Montagu's love of cars may have been unparalleled. He founded the National Motor Museum in Beaulieu, nestled in Hampshire County, England. Montagu's father John was one of the first drivers in the United Kingdom, and commissioned the famous Spirit of Ecstasy hood ornament used by Rolls-Royce. You can see a 1930 model of the Blower if you visit the museum today. Ralph, the fourth Baron Montagu, is the man in charge now.
8. Gymkhana Unleashed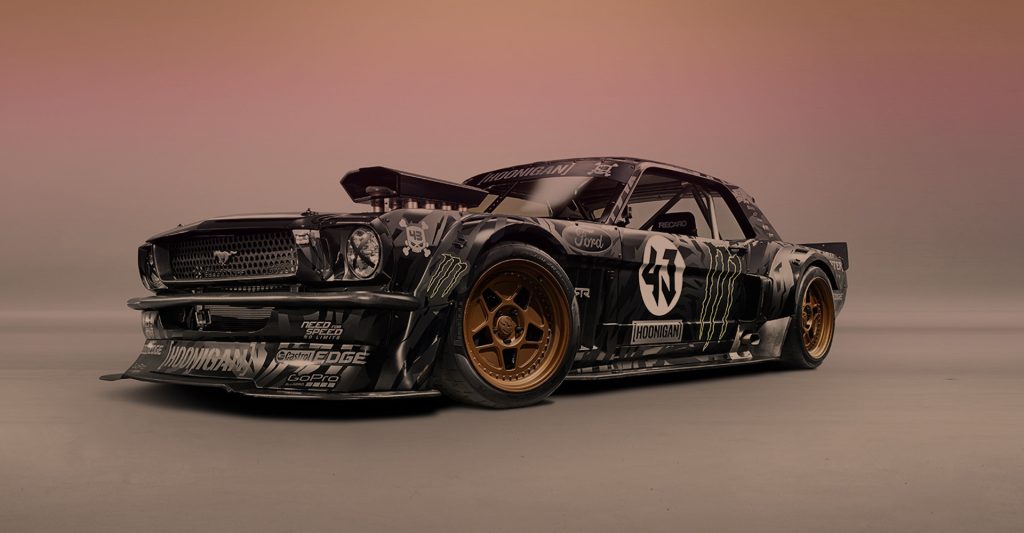 At first blush, there isn't anything that remarkable about the 2006 Subaru Impreza WRX STI. But we can't talk about Gumball 3000 without mentioning Ken Block. The professional rally driver from Hoonigan Racing Division has done it all in this sport since making his debut in 2005. Block is one of the pioneers of Gymkhana, an offshoot of autocross, and at the 2005 rally, Block unveiled not one, but three of these custom-built Subarus.
So what's the big deal? These are 2.5-liter, turbocharged 4-cylinder cars – not exactly the InCENArator. But these tiny machines pack a punch: a full 565 horsepower, to be exact. They're a big hit with rally drivers everywhere, and you can even get one for yourself. A Hot Wheels version, that is.
9. Bombs Away
Aston Martin became widely famous as the people behind the James Bond cars, but in 2015, they decided to bring a new track-only car into the world: the Aston Martin Vulcan. But "track-only" meant this amazing 7.0-liter V12, with its ridiculous 820 horsepower, was never going to be allowed in a rally event like the Gumball 3000.
Until they made a street version. Hooking up with RML Group, Aston Martin spent 18 months to create a single Vulcan vehicle that would meet regulations. Headlights and wipers were added, among other necessities, and the "Vulcan Bomber" was deemed fit for the 2019 rally. Why Vulcan Bomber? It's named after the Avro Vulcan plane that was part of the British Royal Air Force – and they even gave the car a special camouflage paint scheme as a finishing touch.
10. The slowest car at Gumball rally: It's A Lemon
Finally, we come to one of the slowest cars ever to compete in the Gumball 3000. In 2004, a bright orange Citroen 2CV joined the party, topping out at a feisty 29 horsepower. No worries about getting a speeding ticket here; reports said this particular car couldn't even reach 55 mph. But to this day, the 2CV is a hit with motorsport fans – there's even a 2CV 24 Hour Race held every year in Norfolk, England.
There are too many amazing Gumball 3000 cars and drivers to talk about here, but the adrenaline and lust for life on display is exactly what Team Ignition is all about.