//= wp_get_attachment_image($images['ID'], "generic") ;?>

//= wp_get_attachment_image($mobileImage['id'], "generic-mobile") ;?>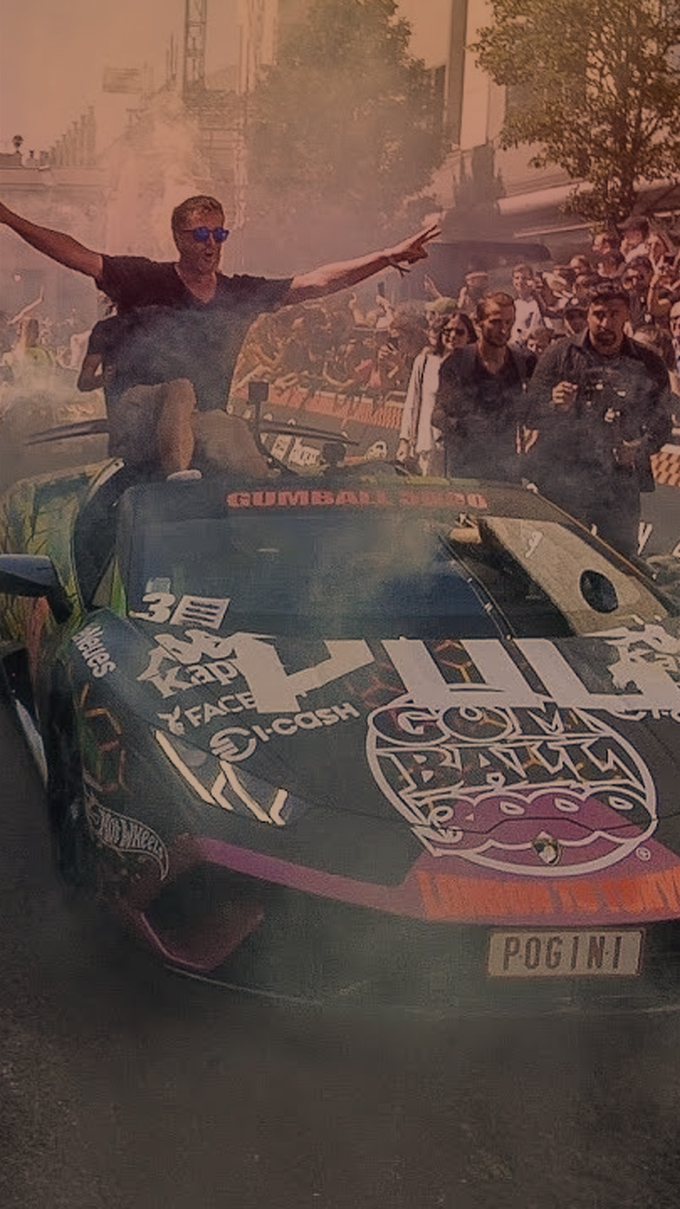 Wild Times: Recalling Past Gumball Rallies
Best Gumball 3000 Rallies
Booze, music, and celebs with a dash of debauchery. Gumball 3000 Rallies offer more than supercar parades.
Gumball 3000 is known for its legendary parties almost as much as the rally itself. Spotting famous people from behind the window of a supercar is one of the reasons people line up to see the convoy of cars pull into the city. But it doesn't matter how rich and famous you are—after a day of driving in a car, you're going to want to let loose and party when you get to your destination.
Over the years, there have been some pretty wild nights. Champagne showers and late-night pool parties are just the beginning. We're going to recall some of the more dubious highlights from over the years to give you a taste of the wilder side of Gumball 3000 and get you ready for the Ignition sponsored Gumball 3000 2022 rally. For more information on this year's festivities, check out the Gumball FAQ.
Wildest Gumball 3000 Events
14 Hours of Debauchery: Amsterdam to Nevada
In 2015, Gumball 3000 took drivers from Stockholm, Sweden to Las Vegas, USA and that involved a 14-hour transatlantic flight that saw all kinds of debauchery on board. Reality TV star Matthew Pritchard from Dirty Sanchez (2003-2008) provided on-flight entertainment by stripping down and getting on top of other guys on the plane before passing out on the ground. Vodka was swigged by all, and vaping filled the cabin with flavored smoke. At one point, a woman was put into the overhead baggage compartment, and at another point, every one took part in a mega pillow fight, using the airline pillows.
Lost and Confused in Sweden
Journalist Jeffrey Gomez learned the hard way that things don't always go according to plan at Gumball 3000 when he partied a little too hard at a rally outing after evading jail time in Sweden. The journalist told the story of leaving a Gumball party with two girls to go to a city bar at 3 AM only to wind up getting pummeled by strangers and waking up in a strange dark room. After being taken to the hospital for minor injuries, he was escorted back to the rally by a PR agent and made it to the end point in Las Vegas.
Gumball 3000 Rally Ends at Playboy Mansion
The 2002 edition of Gumball 3000 was the first Gumball coast-to-coast American road trip organized. It started in New York City and ended at the Playboy Mansion in Los Angeles, California, where the late Hugh Hefner was hosting the event along with his finest Playboy bunnies. Celebrities in attendance included MTV Jackass star, Steve-o, actor Matthew McConaughey, fashion designer Donna Karen, and model Rachel Hunter. A cordoned-off party in the hidden Grotto pool made for a steamy finish to the multi-day road trip.
Biggest Gumball 3000 Celebrities
Rubbing elbows with celebrities is a Gumball 3000 tradition for those who make it to some of the more exclusive events. While almost all drivers have some level of fame, the following three are recognizable by all.
David Hasselhoff
Having starred in the '80s TV series, Knight Rider, David Hasselhoff is right at home at Gumball 3000. He has taken part in the rally in a variety of ways since 2008 and has driven several cars, including a 1982 Pontiac Trans AM (from Knight Rider), a black Maserati Gran Turismo and a Nissan GT-R. In 2015, Team Hoffballer auctioned off his KITT car from Knight Rider for a charity at the end of the rally in Las Vegas. The following year, Hasselhoff participated by waving the start flag at the beginning of the trip in Dublin, Ireland.
Tony Hawk
Skateboarding icon Tony Hawk is a Gumball 3000 veteran who took part in the rally for five straight years until 2010, and then took a break until the 2013 edition. Hawk has driven different cars for the occasion, including a Dodge Viper in 2004 and a Land Rover Defender (Twisted Defender) in 2013.
Eve
The famous American rapper, Eve was sponsored by Puma to take part in the 2010 edition of Gumball 3000 and that was when she met the creator, Maximillion Cooper, who was recently divorced. The two dated for four years before getting married in 2014, and now they're always seen riding together. Eve will be riding with Max Cooper this year in the Team Ignition Lamborghini Aventador S.
Biggest Sponsors at Gumball Events
Over the years, there have been many major sponsors for the Gumball 3000 rally that includes household brands like Uber, Christie's, YouTube and MTV. Sponsors play a big role at Gumball 3000 and the main sponsors get their stickers placed on all of the cars.
Kappa, the Italian sportswear brand, provides the merch for the drivers, the Gumball 3000 staff and makes it available to the public. Carerra, the eyewear brand, is another major sponsor for the 2022 event, along with Whistle Pig, the rye whiskey producers. Lastly, Ignition Casino will be a main partner for the upcoming Gumball 3000 North America rally, connecting the lifestyle of high-flying Gumballers with high-stakes casino players.
Best Routes of Past Gumball Rallies
Every year, the Gumball routes change, taking participants to a new part of the world. Through 21 years, the rally has toured around Europe, North America, Africa and Asia. Some routes are more popular than others, and we're highlighting the top-three.
Gumball 3000: Miami to Ibiza – 2014
In 2014, Gumball 3000 blew people away with their Miami-Ibiza transatlantic adventure. They started in Miami and made a stop in Atlanta before getting a VIP experience at the first-ever F1 event in New York City. Then, the cars were loaded onto a cargo plane headed for Europe, starting in Edinburgh, Scotland, and then making their way through London, England, Paris, France and Barcelona, Spain. From Barcelona, they needed to board a ferry to finish the trip on the party island, Ibiza.
Gumball 3000: London to Tokyo – 2018
In 2018, Gumball 3000 was celebrating their 20-year anniversary, so the route had to be extraordinary. Gumball owner, Cooper was interested in bringing people to Japan for the latter half of the route after starting in London and driving through Chantilly, France, Milan and Bologna in Italy. Cars were loaded into cargo planes headed for Japan, and once they landed, they toured through Osaka, Kyoto, Nanao and finished in Tokyo for the final party.
Gumball 3000: Europe: Dublin to Bucharest – 2016
The 2016 Gumball 3000 trip took people on an incredible Euro trip that started in Dublin, Ireland and moved to Edinburgh, Scotland. Their next stop was in London, and over 500,000 people waiting on Regent Street to watch the cars roll in. After London, the cars went to Prague in Czech Republic, Budapest and finished in Bucharest, Romania.
Ignition Casino: Proud Official Sponsor of Gumball 3000
Gumball 2022 is the first year that Ignition Casino is partnering with the rally as an official sponsor. We'll have our own road beast kitted up to make the international trip from Toronto, Canada to Miami, Florida. Check out our destinations page for info on every stop.